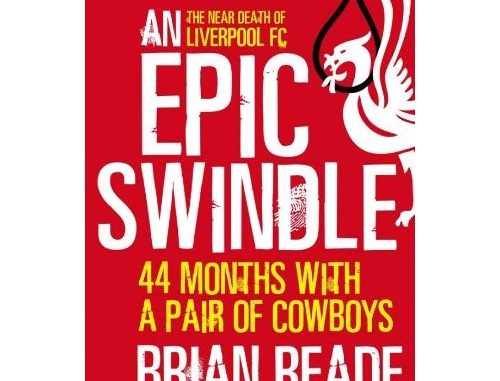 An Epic Swindle by Brian Reade
An Epic Swindle: 44 Months With A Pair Of Cowboys, Brian Reade's new book, is the riveting inside story of how Liverpool FC was dragged to its knees during the ­shambolic reign of US owners Tom Hicks and George Gillett. Here is an extract: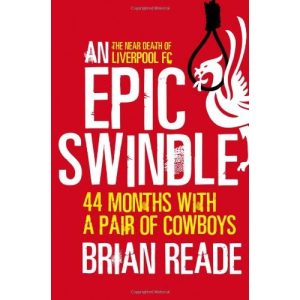 Tom Hicks' favourite camera crew was summoned to his Dallas mansion for the most repulsive PR stunt ever pulled by anyone connected with Liverpool FC.
As he sat in his cosy armchair, his wounded expression as fake as the gas-flamed fire burning behind him, back at his Formby home Steven Gerrard stared at his TV in disgust.
A year into the Americans' reign, civil war was raging at Anfield, with fans, manager and board members at each others' throats. And now the absentee Texan owner was calling for chief executive Rick Parry's head on worldwide TV.
That Sky interview was the final straw for the Liverpool captain. He never wanted to look at Hicks or Gillett again.
Gerrard says: "I was thinking, 'When is this going to end? One year? Two years?' You could see it was just going to get messier and the people really suffering were the team and the supporters."
In their first meeting, the Americans promised Gerrard they would restore the club to the pinnacle of European football while respecting its history.
"But that wasn't the case, especially when they were dragging the club through the courts," he says. "That was a disgrace. I can't find the words to describe them. Let's just say they had some balls. I didn't think they'd drag the club to those lengths for some money. It just showed how greedy they were."
At his home a few miles down the Merseyside coast, Jamie Carragher watched that same TV interview in April 2008 in despair. He recalls: "That's when I thought it had got past a joke. To fly a TV crew over to your house, dress your kids in Liverpool tops, and start dishing the dirt on worldwide telly I just thought, 'Oh my God, what's going on?' It was unforgivable."
Like Gerrard, Carragher became emotionally exhausted with the Anfield anarchy.
"It was like your mum and dad scrapping. You don't care what they're fighting about, you just want to scream at them to shut up," he says.
"The manager and owners might not have liked each other but they should have concentrated on letting us play football. I got sick of the rowing – it just wouldn't stop. Everyone was playing politics with no regard for the damage they were doing to the club. I wanted to shout, 'Can we forget about this and just play football?'"
The two local legends were also conscious that, in the final 18 months the Americans were there, the team suffered from an acute lack of investment. "We were so close," says Gerrard. "Two European finals, finishing second – we were two or three decent signings away from competing with anyone. That was the frustration."
Gerrard won't say it because it would seem like an excuse, but friends say there were times when he felt that the Americans cost him the one thing he's craved all his professional life – the Premier League. Carragher feels the same. "I want to win medals and if the owners had put their money in like they promised then I might have won more than I did. You look at other players who are winning titles and you want to be better than them. So when the transfer money dries up like it did with those two, it gets you angry.
"I'd never say they definitely cost me a League title medal as it was down to us players, but if we hadn't had crippling interest payments like we had we could have been spending an extra £15-£20million in the last few transfer windows, which could have made the difference.
"I'd loved to have played in a new Anfield, too, but I won't. If they'd put that spade in within 60 days as they promised, I'd be playing in it now."
Spanish goalkeeper Pepe Reina told the pair he was amazed they didn't go public and demand answers. Both admit the dilemma tortured them at the time and still plays on their consciences today. "I totally understand why some of the fans were frustrated we didn't speak out," says Gerrard. "When I'm down with England I hear stories about what big players have said at their clubs, but when me and Jamie speak we're worried people might say, 'Does he think he's bigger than Liverpool?' So it was a horrible situation as I wanted to come out and use my status to help but I was terrified of it backfiring.
"Should I say something? Would it make a difference? Who are we to criticise our bosses? They were the questions I kept asking myself and at times they were on the tip of my tongue. But if I'd wanted to speak to the owners I couldn't, they were never there. It was a mess."
Carragher agrees: "Maybe me and Stevie should have come out when we had the power and said something, but we're from here. We love the club and never like saying anything negative about it. It's what we believe in. So whatever is thrown at you, you feel you have to take it.
"It's like if someone in your family does something wrong you'll still stand behind them even if you want to slag them off."
The pair's major worry was how the fans were suffering. Gerrard says: "The lowest point was when the Kop were holding sit-ins to protest. I was thinking, 'Let's get them out, enough is enough, the sooner these are out the better.'"
It got to Carragher so much he stopped reading newspapers. "I switched off. I wasn't reading about football, it was backbiting and bitching and plots and people slagging each other off.
"The game wasn't played on the pitch but off it. Political games. It became a bad soap opera. I wasn't just thinking about my game. I was thinking, 'Whose side should I be on?' I wished I could do my training and think about nothing else, but it became impossible. I was taking it all home with me.
"In the end, I was so pleased the Americans walked away with nothing as they had their chances to sell the club and make their profit but chose not to. They didn't care about Liverpool – they just cared about themselves."
You can order An Epic Swindle by Brian Reade book here
or you can download An Epic Swindle by Brian Reade epub and mobi version :
.rar password if required : dds.web.id
if you found broken link on this An Epic Swindle by Brian Reade article, please let me know and leave a comment below.