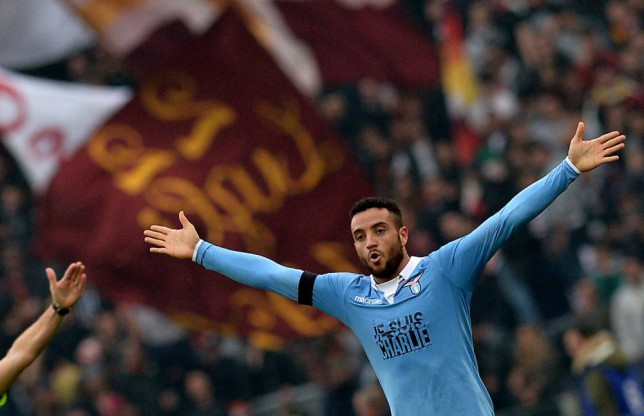 WordPress database error: [Disk full (/tmp/#sql_4756_0.MAI); waiting for someone to free some space... (errno: 28 "No space left on device")]
SHOW FULL COLUMNS FROM `wp_options`
WordPress database error: [Disk full (/tmp/#sql_4756_0.MAI); waiting for someone to free some space... (errno: 28 "No space left on device")]
SHOW FULL COLUMNS FROM `wp_options`
WordPress database error: [Disk full (/tmp/#sql_4756_0.MAI); waiting for someone to free some space... (errno: 28 "No space left on device")]
SHOW FULL COLUMNS FROM `wp_options`
WordPress database error: [Disk full (/tmp/#sql_4756_0.MAI); waiting for someone to free some space... (errno: 28 "No space left on device")]
SHOW FULL COLUMNS FROM `wp_options`
WordPress database error: [Disk full (/tmp/#sql_4756_0.MAI); waiting for someone to free some space... (errno: 28 "No space left on device")]
SHOW FULL COLUMNS FROM `wp_options`
WordPress database error: [Disk full (/tmp/#sql_4756_0.MAI); waiting for someone to free some space... (errno: 28 "No space left on device")]
SHOW FULL COLUMNS FROM `wp_options`
WordPress database error: [Disk full (/tmp/#sql_4756_0.MAI); waiting for someone to free some space... (errno: 28 "No space left on device")]
SHOW FULL COLUMNS FROM `wp_options`
WordPress database error: [Disk full (/tmp/#sql_4756_0.MAI); waiting for someone to free some space... (errno: 28 "No space left on device")]
SHOW FULL COLUMNS FROM `wp_options`
WordPress database error: [Disk full (/tmp/#sql_4756_0.MAI); waiting for someone to free some space... (errno: 28 "No space left on device")]
SHOW FULL COLUMNS FROM `wp_options`
WordPress database error: [Disk full (/tmp/#sql_4756_0.MAI); waiting for someone to free some space... (errno: 28 "No space left on device")]
SHOW FULL COLUMNS FROM `wp_options`
WordPress database error: [Disk full (/tmp/#sql_4756_0.MAI); waiting for someone to free some space... (errno: 28 "No space left on device")]
SHOW FULL COLUMNS FROM `wp_options`
WordPress database error: [Disk full (/tmp/#sql_4756_0.MAI); waiting for someone to free some space... (errno: 28 "No space left on device")]
SHOW FULL COLUMNS FROM `wp_options`
WordPress database error: [Disk full (/tmp/#sql_4756_0.MAI); waiting for someone to free some space... (errno: 28 "No space left on device")]
SHOW FULL COLUMNS FROM `wp_options`
WordPress database error: [Disk full (/tmp/#sql_4756_0.MAI); waiting for someone to free some space... (errno: 28 "No space left on device")]
SHOW FULL COLUMNS FROM `wp_options`
WordPress database error: [Disk full (/tmp/#sql_4756_0.MAI); waiting for someone to free some space... (errno: 28 "No space left on device")]
SHOW FULL COLUMNS FROM `wp_options`
WordPress database error: [Disk full (/tmp/#sql_4756_0.MAI); waiting for someone to free some space... (errno: 28 "No space left on device")]
SHOW FULL COLUMNS FROM `wp_options`
WordPress database error: [Disk full (/tmp/#sql_4756_0.MAI); waiting for someone to free some space... (errno: 28 "No space left on device")]
SHOW FULL COLUMNS FROM `wp_options`
WordPress database error: [Disk full (/tmp/#sql_4756_0.MAI); waiting for someone to free some space... (errno: 28 "No space left on device")]
SHOW FULL COLUMNS FROM `wp_options`
WordPress database error: [Disk full (/tmp/#sql_4756_0.MAI); waiting for someone to free some space... (errno: 28 "No space left on device")]
SHOW FULL COLUMNS FROM `wp_options`
WordPress database error: [Disk full (/tmp/#sql_4756_0.MAI); waiting for someone to free some space... (errno: 28 "No space left on device")]
SHOW FULL COLUMNS FROM `wp_options`
WordPress database error: [Disk full (/tmp/#sql_4756_0.MAI); waiting for someone to free some space... (errno: 28 "No space left on device")]
SHOW FULL COLUMNS FROM `wp_options`
WordPress database error: [Disk full (/tmp/#sql_4756_0.MAI); waiting for someone to free some space... (errno: 28 "No space left on device")]
SHOW FULL COLUMNS FROM `wp_options`
WordPress database error: [Disk full (/tmp/#sql_4756_0.MAI); waiting for someone to free some space... (errno: 28 "No space left on device")]
SHOW FULL COLUMNS FROM `wp_options`
WordPress database error: [Disk full (/tmp/#sql_4756_0.MAI); waiting for someone to free some space... (errno: 28 "No space left on device")]
SHOW FULL COLUMNS FROM `wp_options`
Akhir pekan lalu, banyak pihak yang memberikan komentar bahwa saat ini dunia sepakbola sedang bersatu untuk melawan kekerasan. Hal ini terlihat dari gesture tim sepakbola Lazio yang mengenakan sebuah jersey khusus dengan slogan "Je Suis Charlie" di bagian dada untuk merespon tragedi penyerangan Charlie Hebdo di Paris. Beritanya bisa dilihat di sini : Lazio dan "Je Suis Charlie"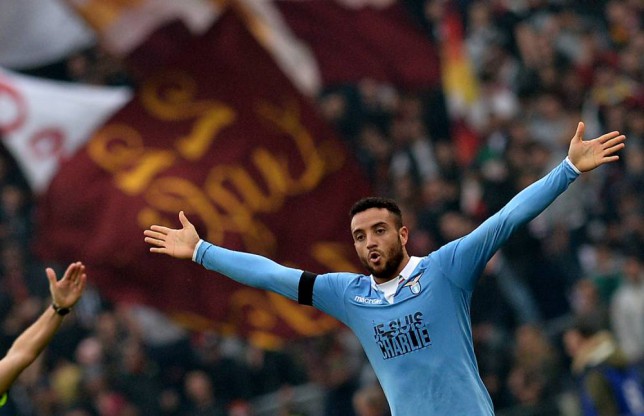 Pada pertandingan melawan AS Roma, dimana Lazio menang 2-0 pada babak pertama, diyakini pula bahwa jersey bertuliskan "Je Suis Charlie" tersebut memberikan semangat kepada pemain-pemain Lazio sehingga mampu menahan imbang Roma.
Lalu, bagaimana sebenarnya aturan yang mengatur tentang penulisan sebuah pesan dalam jersey sepakbola ? Sebelumnya,
mari kita menilik kebelakang tentang beberapa pemain yang pernah melakukan hal yang sama dalam dunia sepakbola.
1. Robbie Fowler
Pada tahun 1997 di ajang Piala Winners Eropa, Robbie Fowler menunjukkan undershirt yang dipakainya yang bertuliskan "Dockers, sacked since September 1995" sebagai bentuk dukungan untuk 500 pekerja pelabuhan yang dipecat. Hal itu membuat UEFA dan FIFA menjadi resah akan adanya pesan-pesan agama maupun politik dalam dunia sepakbola. Peraturan UEFA sendiri melarang seorang pemain untuk memperlihatkan logo politik apapun pada saat pertandingan. Akibatnya, Fowler dijatuhi hukuman 1.400 Dollar Amerika.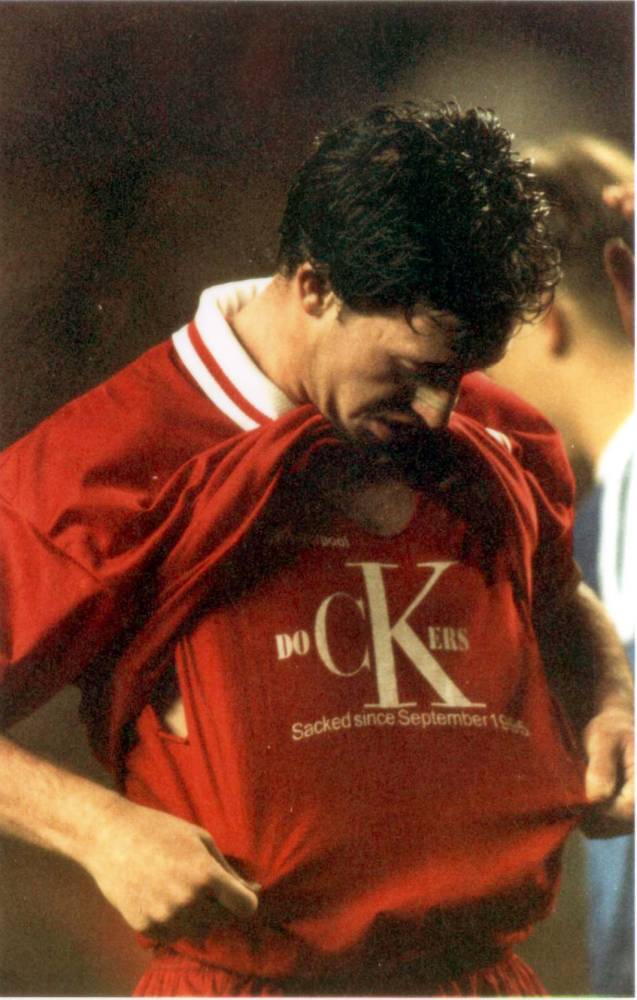 2. Frederic Kanoute
Masih segar dalam ingatan, gesture Frederic Kanoute ketika berhasil mencetak gol ke gawang Deportivo La Coruna pada tahun 2009 dalam ajang Piala Raja. Pada pertandingan tersebut, Sevilla berhasil mengalahkan Deportivo La Coruna dengan skor 2-1. Frederic Kanoute mengangkat jersey-nya dan memperlihatkan undershirt bertuliskan "Palestina" dalam beberapa bahasa sebagai bentuk dukungannya terhadap bangsa Palestina di Gaza yang diserang oleh Israel dan menewaskan sekitar 800 orang. Alhasil, Frederic Kanoute dihukum dengan denda sebesar 3000 Euro.
Lalu, apa komentar Kanoute menanggapi hukumannya tersebut? Frederic Kanoute berkata, "Itu adalah sesuatu yang harus saya lakukan. Semua orang harus merasa bertanggung jawab ketika ada suatu ketidakadilan. Saya 100 persen bertanggung jawab atas apa yang saya lakukan dan saya tidak peduli dengan sanksi".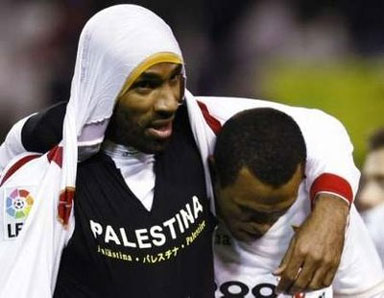 3. Mohamed Aboutreika
Pemain Mesir, Mohamed Aboutreika mendapat teguran dari CAF (Federasi Sepakbola Afrika) dan sebuah kartu kuning karena memakai dan memperlihatkan kaos yang bertuliskan "Sympathize With Gaza" pada ajang Piala Afrika di Ghana. Aboutreika mengangkat jersey dan memperlihatkan kaos tersebut setelah berhasil mencetak gol ke gawang Sudan pada pertandingan Grup C Piala Afrika, pada pertandingan tersebut Mesir menang telak dengan skor 3-0.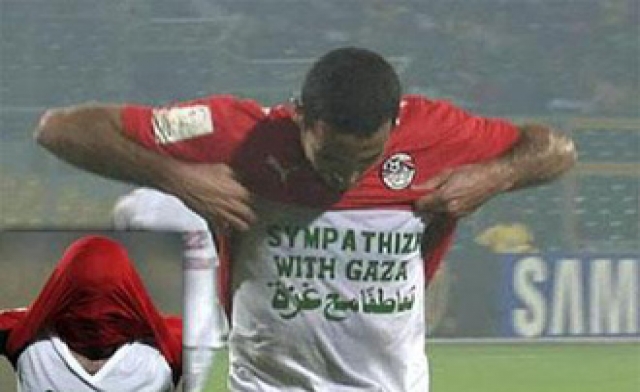 4. John Paintsil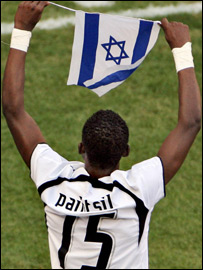 John Paintsil, pemain internasional Ghana yang juga dikenal sebagai John Pantsil melambaikan bendera Israel yang dikeluarkan dari kaos kakinya ketika merayakan kemenangan Ghana atas Republik Ceko pada gelaran Piala Dunia 2006. Pantsil yang pada saat itu bermain untuk klub Israel, Hapoel Tel Aviv, tiba-tiba mengeluarkan bendera Israel dari dalam kaos kakinya dan melambaikannya ke arah penonton dan kamera.
Bagaimana reaksi CAF (Federasi Sepakbola Afrika) ? Tidak ada. Tidak ada hukuman atau bahkan teguran untuk aksi Paintsil walaupun selanjutnya ada permintaan maaf dari Randy Abbey sebagai juru bicara federasi sepakbola Ghana yang mengeluarkan statement bahwa mereka datang ke Jerman tidak untuk mendukung Israel atau negara Arab, tapi mereka ke Jerman hanya untuk sepakbola. Bukan politik. Seorang juru bicara FIFA mengatakan bahwa mereka tidak terganggu dengan gesture Paintsil. Bahkan Menteri Olahraga Israel pada saat itu, Ofir Pines-Paz memuji tindakan Paintsil walaupun bahkan Michael Adjei, seorang penyiar televisi Ghana, mengaku heran dengan aksi Paintsil dan berkata bahwa semua orang di Ghana heran dengan aksi Paintsil yang mengibarkan bendera Israel alih-alih bendera Ghana, negerinya sendiri.
5. Jonathan Mejia
Umumnya, tak ada yang peduli dengan pertandingan divisi dua Liga Spanyol. Jangankan divisi dua, pertandingan divisi utama Liga Spanyol selain Real Madrid dan Barcelona pun miskin peminat. Namun, pertandingan Real Jaen vs Las Palmas di februari 2014 begitu menyita perhatian publik Spanyol ketika seorang pemain bernama Jonathan Mejia mencetak gol dan mengangkat jersey-nya dan memperlihatkan undershirt yang bertuliskan sebuah tulisan berbahasa Spanyol yang kurang lebih artinya dalam bahasa inggris adalah "Get well soon little ones, International Childhood Cancer Day".
Atas "ulahnya" tersebut, Mejia mendapatkan sanksi dari Komite Kompetisi sebesar 2.000 Euro. Tak pelak, publik Spanyol bereaksi keras. Sosial media dibanjiri dengan beberapa pendapat bahwa Komite Kompetisi mempunyai standar ganda karena tepat seminggu sebelumnya, Komite yang sama hanya "menghadiahi" Atletico Madrid denda sebesar 600 Euro untuk tindakan pendukungnya yang melempari Cristiano Ronaldo dengan sebuah korek ketika Cristiano Ronaldo berjalan keluar lapangan.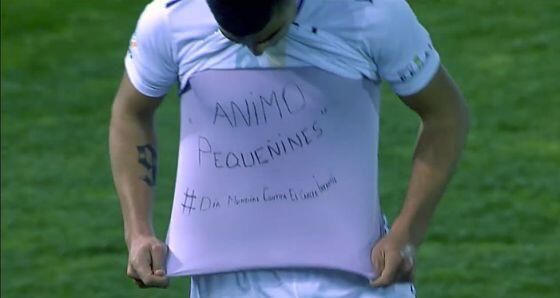 Lalu Apa Kata FIFA ?
FIFA dalam peraturannya dan dapat diunduh di "Law 4 The Player's Equipment" dengan jelas menyatakan bahwa :
Players must not reveal undershirts which contain slogans or advertising. The basic compulsory equipment must not contain any political, religious or personal statements.

A player removing his jersey to reveal slogans or advertising will be sanctioned by the competition organiser. The team of a player whose basic compulsory equipment contains political, religious or personal slogans or statements will be sanctionedby the competition organiser or by FIFA.

Disciplinary sanctions are the responsibility of the competition organiser – the referee will include details in the match report.

Jerseys or shirts must have sleeves.
Kembali pada gesture Lazio yang menampilkan slogan "Je Suis Charlie", jika mengacu pada poin peraturan FIFA, maka seharusnya Lazio didenda karena jersey-nya mengandung slogan. Sesuai dengan kutipan peraturan  diatas "The team of a player whose basic compulsory equipment contains political, religious or personal slogans or statements will be sanctionedby the competition organiser or by FIFA". Namun demikian, sepertinya hingga saat ini Lazio "adem-ayem" dan tidak terkena sanksi bahkan teguran apapun. Padahal slogan tersebut tak hanya mengandung slogan personal, namun juga mengandung unsur politis dan agama. Kenapa demikian? karena slogan "Je Suis Charlie" muncul dilatarbelakangi penyerangan Charlie Hebdo di Paris. Penyerangan Charlie Hebdo di Paris disinyalir, konon katanya, adalah buah hasil provokasi Charlie Hebdo yang mengeluarkan karikatur menghina Rasulullah Muhammad SAW. Tragedi penyerangan Charlie Hebdo tersebut juga memiliki unsur politis, karena konon katanya beberapa pemimpin negara-negara di dunia berdemonstrasi di jalanan menentang terorisme.
Jika memang tidak ada tindak lanjut dari Komite Kompetisi maupun FIFA dalam kasus jersey Lazio ini, maka dengan ini saya nyatakan bahwa sepakbola tidak ada hubungannya dengan politik adalah pernyataan hipokrit.
@takur_singh